Cobb's transit expansion plans face pushback
County seeks to grow economy; opponents fear urbanization.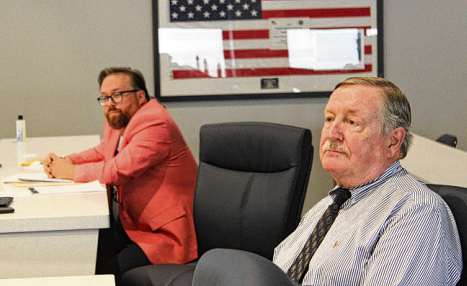 By Taylor Croft – taylor.croft@ajc.com
COBB COUNTY

Cobb County transportation officials are currently deciding upon a list of projects that could make up a transit expansion referendum to be placed in front of voters next year.

And there's already opposition from segments of the public.


The Cobb County Commission has signaled its desire to place a sales tax referendum to pay for transit expansion in front of voters during the 2024 presidential election.
County officials have not yet decided how much the tax would be, or what projects it would fund.
But that hasn't stopped Lance Lamberton, president of the Cobb County Taxpayers Association, from proclaiming that any sort of expansion will lead to further "urbanization" of a county with over 770,000 residents.
"I strongly want to see Cobb maintain its suburban character," Lamberton said.
Lamberton isn't alone.
Others have recently used the public comment period of county meetings to speak out against transit expansion.
Pamela Reardon, a Marietta real estate agent, told commissioners that residents don't want MARTA because it will "increase our crime."
But Drew Raessler, Cobb's transportation director, said transit expansion is really about growing the county's economy and serving residents.
"If there is not something done to better connect folks, then we will struggle to grow economically, to grow with population, and to keep up with the demand that that growing population will put on us," Raessler said.
Commissioners are poised to put the question in front of voters nearly 60 years after the Cobb famously opted out of MARTA. Gwinnett and Clayton counties later followed, foiling the plan for a regional transit system.
Shifting opposition
Cobb residents have historically fought against MARTA expansion into the northwest Atlanta suburb. But those attitudes may be shifting with the demographic diversification of its population.

A 2018 survey of 900 likely Cobb voters found 59% support creating a new sales tax of up to 1% to fund transit projects that would include rail and bus. The survey was conducted by McLaughlin and Associates and commissioned by the county.

In 2021, the county developed a comprehensive transit plan that included a survey of more than 5,300 residents by a consultant. That poll found support from about half of the respondents.

"A lot of that opposition, if you look at the reasons why, it's fear-driven — fear of their county changing," said Matt Stigall, a transit proponent who sits on the county's Transit Advisory Board. "I think transit is going to be a battleground for a lot of that change."

The first shot in the coming battle was fired by Lamberton, who filed an ethics complaint against Stigall. The complaint alleges Stigall had a conflict of interest with his vote on the advisory board recommending the county move forward with the transit referendum because of his simultaneous transit advocacy work.

The county's ethics board voted unanimously to dismiss the complaint.

"There's no violation here," Board Chairman Carlos Rodriguez said.

Lamberton has been speaking out against transit expansion to other groups, as well.

During a recent Cobb GOP meeting, he stoked fears that expansion would lead to Republicans losing more local elections.

"Democrats concentrate in urban areas because they want to be amongst their own kind, which is fine," Lamberton said during the May 6 meeting at the Cobb County GOP headquarters in Marietta.

"But I like to be amongst my own kind in a suburban county like Cobb County. …

This is what the transit tax will do: it will further urbanize the county; it will create a demographic tsunami in Cobb County to the point where we will never ever, as the Republican Party, ever be able to recapture the majority on the Board of Commissioners.

"We might become DeKalb County. Is that a pleasant thought?"

The Cobb Commission became majority Democratic for the first time in many years after the 2020 election. The three Democrats on the board are all Black women, including Chairwoman Lisa Cupid.

Lamberton later said "race did not enter my mind when I made that statement," but State Rep. Doug Stoner, D-Smyrna, called the comments a "racial dog whistle."

"I think if the argument is that Cobb is going to become urbanized, then we're a little behind the curve — Cobb is a mixture of urbanized and suburbanized areas and has been for a while," Stoner said.

"Is it because the county is no longer going to be majority white? I mean, we're almost there anyway. And we don't have a mass transit system."

Cobb's transit history
Cobb County opted out of the MARTA referendum in 1968. But county officials made that decision, not voters.

"When people say: 'Oh, Cobb was overwhelmingly against it,' well, there's really no way to know," said Stoner, who served on the Transit Advisory Board for several years starting in 1995.

The 1968 referendum to expand MARTA failed in the city of Atlanta and Fulton and DeKalb counties.

Atlanta, Fulton and DeKalb county voters approved the referendum when it came back in 1971 as a Special Purpose Local Option Sales Tax, with Gwinnett and Clayton voting against it. Cobb County again did not participate in the vote.

It wasn't until 1987 that Republicans in county leadership gave residents the option to vote on transit, in the form of a bus system that launched in 1989, now called CobbLinc.

It was approved with 51%.

Stoner said the main reason it passed was economic development.

"If Cobb wanted to continue to grow, it had to address (transit)," Stoner said. "It was looked upon as an economic development issue, mainly getting access to people who worked in the county who didn't have a car or people who worked in Atlanta to get access to the labor market out here."

Now, Cobb County finds itself similarly situated 36 years later.

Few details have been released about the county's plans for how to use the transit tax if approved by voters.

The project list is still being developed, and it will be presented later this year, Raessler said.

A majority of the commission will have to vote in favor of putting the referendum on the ballot.
https://epaper.ajc.com/popovers/dynamic_article_popover.aspx?guid=d52e96cd-a48b-48da-8fe4-f5c9d8a93e84&pbid=8e0858ee-1443-484d-9e94-f8b8a1eaaaff&utm_source=app.pagesuite&utm_medium=app-interaction&utm_campaign=pagesuite-epaper-html5_share-article